Buttermilk Maple Cinnamon Pancakes 2PK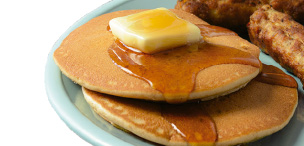 Product Number:

02168-52000

UPC Code:

065651021682

SCC:

10065651021689

Ingredients:

Water, Whole wheat flour, Enriched unbleached flour (wheat flour, malted barley flour, niacin, reduced iron, thiamine mononitrate, riboflavin, folic acid), Sugar, Maple chips (sugar, wheat flour, soybean oil, cellulose gum, natural flavour), Liquid whole eggs, Modified milk ingredients, Dextrose (sugar), Soybean oil, Natural maple flavour (water, propylene glycol, natural flavours), Baking powder, Lecithin, Cinnamon, Salt.

Contains:

Eggs, Milk, Soy, Wheat

Kosher:

No

Size:

72 x 74 g

Net Weight:

5.3 kg

Shelf Life/Storage:

365 days if stored at ≤ -18°C (0°F)
---
Thawing & Cooking Instructions
Thawing instructions:

The day before serving, remove product in full cases from the freezer and thaw for 2 hours at room temperature. After thawing, refrigerate until needed. Do not re-freeze the product or it will stick the products together.

Shelf-life once thawed:

3 days at 0⁰C-4⁰C
2 hours at room temperature

Conventional oven:

Preheat oven at 350°F and cook for 5 minutes when thawed.
Fully cooked when internal temperature reaches 165°F.
---
Nutrition Facts
Per 100 g
Amount % daily value
Calories 229.73
Fat 4.05 g

5 %

Saturated 0.68 g

3 %

+ Trans 0 g

Cholesterol 13.51 mg
Sodium 270.27 mg

12 %

Potassium 94.59 mg

2 %

Carbohydrate 50 g

Fiber 0 g

0 %

Sugars 16.22 g

16 %

Protein 5.41 g
Calcium 94.59 mg

2 %

Iron 1.76 mg

10 %